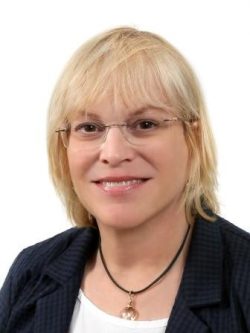 Tsila Zuckerman, M.D.
Dr. Tsila Zuckerman is Director of the Department of Hematology and Bone Marrow Transplantation at the Rambam Health Care Campus (Haifa, Israel) and Clinical Associate Professor at the Ruth and Bruce Rappaport Faculty of Medicine at the Technion. Her teaching activities include coordination of the Preclinical-Clinical Integrated Systems course (Hemato-Oncology) for medical students, instruction of the Capsule course and consultation of clinical-year students. Dr. Zuckerman also heads the Leukemia Research Laboratory at the Clinical Research Institute at Rambam (CRIR) and mentors PhD and MSc students.
Dr. Zuckerman received her MD degree (with distinction) from the Faculty of Medicine at the Technion in Haifa, Israel. She did her residency in internal medicine at the Carmel Medical Center in Haifa. She then completed a 3-year program of clinical and research fellowship in hemato-oncology and bone marrow transplantation (BMT) at the University of Southern California (Los Angeles, CA, USA). Upon her return to Israel, Dr. Zuckerman joined the Department of Hematology at the Rambam Health Care Campus. Since 2006, she has been heading the Rambam Bone Marrow Transplantation Unit, where over 2500 transplants have been performed to date and the most advanced treatment approaches are being used for the benefit of both patients and BMT donors.
She is the Scientific Secretary of the Israel Association for Bone Marrow Transplantation, member of the Acute Leukemia Working Party of the European Society for Blood and Marrow Transplantation (EBMT) and member of the Steering Committee of the Israel Society of Hematology and Transfusion Medicine.
The major clinical research interest of Dr. Zuckerman focuses on stem cell transplantation in acute leukemia, particularly complications associated with this procedure. Currently, her team is developing an infrastructure for up-to-date cellular therapies, including CAR T-cell therapy.  Dr. Zuckerman's other scientific interests include the investigation of intra-patient genetic heterogeneity in acute myeloid leukemia using single cell analysis and contribution of the microenvironment to leukemia initiation and propagation.
04-7773604  t_zuckerman@rmc.gov.il