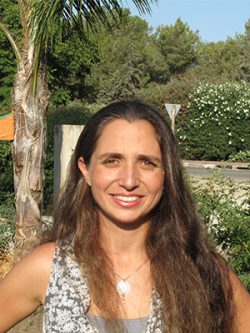 NAME: Naama Geva-Zatorsky, PhD
POSITION TITLE: Assistant Professor in Microbiota-Host Interactions research, Technion
EDUCATION/TRAINING
INSTITUTION AND LOCATION
DEGREE
COMPLETION
DATE
FIELD OF STUDY
Tel-Aviv University, Israel
B.Sc.
2002
Chemistry-Biology
Weizmann Institute of Science, Israel
M.Sc.
2005
Systems-Biology
Weizmann Institute of Science, Israel
Ph.D.
2011
Systems-Biology
Harvard University, Boston, USA
Postdoctoral
2017
Microbiology,Immunology
Selected Awards and Honors:
Johnson&Johnson WiSTEM2D (2019-20), HFSP Career Deelopment Award (2019-21), CIFAR Global Scholar, Humans&Microbiome Program (2018-20); The Alon Fellowoship and Horev fellowship, for young PIs (2017-20).The national and international UNESCO-L'Oreal award (2011,2012, 2014), Human Frontiers fellowship (2012), EMBO fellowship (2011), Fulbright scholarship (2011), John F. Kennedy Prize (2010), Teva Prize and Barenholz prize (2009), for academic excellence, BioAbroad – Israeli American Council Award for Scientific Excellence and Community Leadership, Dean's list of excellence for B.Sc. of the Tel-Aviv University (2002), Amos-De-Shalit Scholarship for research – summer workshop at the Weizmann Institute of Science, Emma and Oscar Getz Summer Science Scholarship, Weizmann Instititue of Science (2001).
https://geva-zatorsky.net.technion.ac.il/
 Selected Active Grants:
 ISF 1571/17, ICRF-Acceleration – 1016142, CIFAR/Azrieli, Seerave Foundation, ICRF acceleration grant, Milgrom Foundation 45862, GIF I-1076-416.6-2017, Seerave Foundation, MOST 3-15516 / 78566, Kenneth Rainin Synergy Grant (Co-PIs Profs. Jeffrey, Maurice, King)
 Selected publications:
Complete LOP: https://www.ncbi.nlm.nih.gov/pubmed/?term=geva-zatorsky+n%5Bau%5D
https://geva-zatorsky.net.technion.ac.il/
077-8875271