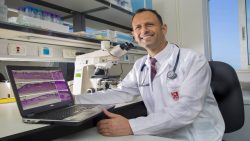 Prof. Mogher Khamaisi, MD, PhD, is currently the director of Internal Medicine 'D' of Rambam Health Care Campus and an Associate Professor at the Rappaport Faculty of Medicine of the Technion-Israel Institute of Technology, where he conducts basic and clinical research.  After receiving his B.S., M.Sc., and Ph.D. degrees in biology from Ben-Gurion University in Beer Sheva, all with honors, he continued his medical training in major centers throughout Israel (including a fellowship in Endocrinology, Diabetes, and Metabolism at Rambam) and is a board certified specialist in both Internal Medicine and Endocrinology. He then fulfilled a post-doctoral research fellowship at the Joslin Diabetes Center at Harvard Medical School, working with the Director of Research, George L. King, and head of the Vascular Cell Biology unit. He holds two patents from his work at Harvard.
Prof. Khamaisi's research interests focus on diabetes and the molecular basis of related late-stage complications, particularly the mechanisms underlying diabetic wound healing. While at Harvard, he investigated human inducible stem cells from diabetic patients and their use in treatment of chronic complications, especially fibroblastic and angiogenic responses in wound healing. His laboratory studied the molecular mechanisms by which hyperglycemia and insulin resistance lead to vascular dysfunction and long-term complications, with the aims to further the identification and implementation of new treatment modalities. In his second project at Harvard, Dr. Khamaisi characterized fibroblast function and cytokine expression in response to ischemia and hyperglycemia in a mouse model, showing a significantly reduced epithelialization ratio into full-thickness wounds. He also examined insulin-induced expressions of vascular endothelial growth factor (VEGF) in fibroblasts from diabetics with or without vascular complications, as well as the effects of protein kinase C (PKC) on restoring insulin's effect on protein kinase b (p-AKT) and VEGF secretion in diabetics. His results suggest that hyperglycemia can induce persistent activation of PKC-delta to inhibit insulin's effect on fibroblasts and cause impaired wound healing in diabetes.
As a member of the Clinical Research Institute of Rambam (CRIR), Dr. Khamaisi's latest work in his lab continues to explore the molecular mechanisms involved in impaired wound healing in longstanding diabetes, particularly in chronic foot ulcer, a complication that leads to more than 2,000 amputations per year in Israel alone. He uses in vivo and in vitro studies, as well as human stem cells and other differentiated cells, to identify protective factors of diabetes-related vascular complications. His research currently utilizes inducible pluripotent stem cells (iPSCs) obtained from diabetics with longstanding disease, which differentiate into healthy endothelial cells and then are transplanted into a wound in an animal model.
In addition to his work on diabetic wound healing, Prof. Khaimaisi has completed works focusing on mechanisms of diabetic kidney function. His previous projects include the mechanisms of the regulation of intrarenal hemodynamics in diabetes and the pathophysiology and prevention of radio contrast nephropathy.
Prof. Khamaisi has received numerous research grants, most recently from the Israeli Academy of Sciences (ISF), as well as many scientific awards, including from Harvard Medical School for his research on the use of human-inducible stem cells for diabetic wound healing. Dr. Khamaisi has published over 100 scientific papers in prestigious international journals as well as book chapters and review articles, with the primary focus of diabetes and its complications. He has been a lecturer to medical students, nurses, and physicians in Israel for over 20 years and supervises graduate students (M.Sc. and PhD.), medical students (MD), and physicians in their research projects.
Mogher Khamaisi MD Ph.D
Associate Professor of Medicine, The Rappaport Faculty of Medicine,
Technion – Israel Institute of Technology.
Director, Internal Medicine D, Senior Physician in Endocrinology,
Head, Diabetes related Macrovascular and Mirovascular Complications Research Laboratory,
The Clinical Research Institute at Rambam (CRIR)
Rambam Health Care Campus, Haifa, Israel.
Tel: +972-4-7772263 Fax: +972-4-7773286
e mail: m_khamaisi@rambam.health.gov.il
URL: https://www.rambam.org.il/en/departmentsandclinics/division_of_internal_medicine/internald/
Research Laboratory Manager:  Marina Volin Ph.D
e mail:  m_volin@rambam.health.gov.il
URL: https://www.rambam.org.il/en/research_and_innovation/crir/crir_labs/khamaisi_lab/