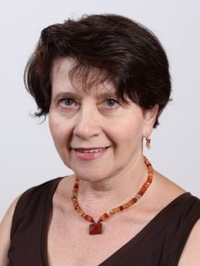 RESUME (CURRICULUM VITAE)
(14 February 2022)
Alexandra Balbir-Gurman, MD has been Director of the B. Shine Rheumatology Institute at Rambam Health Care Campus since 2006.
Prof. Balbir-Gurman graduated State Medical University, Chernivtsi, Ukraine in 1979. After receiving a medical degree, she worked as a family physician, internist and cardio-rheumatologist at a municipal hospital in Chernivtsi. She immigrated to Israel in 1989. Prof. Balbir-Gurman completed her Residency in Internal Medicine (1990-1994) in the Department of Internal Medicine at B'nai Zion Hospital. She completed rheumatology fellowship in Rheumatology Department at Rambam (1994-1997) and has been a Senior Rheumatologist since 1997. In 2000, she performed clinical fellowship in The Connective Tissue Diseases Unit at Royal Free Hospital (London) under Prof. C.M. Black and C.P. Denton.
Prof. Balbir-Gurman is Clinical Associate Professor and Head of Rheumatology Department at the Rappaport Faculty of Medicine-Technion, Haifa. Prof. Balbir-Gurman is a member of Israeli Rheumatology Society and served as a member of The Committee (2009-2019); she is a member of international rheumatology organizations ACR and EULAR; during years 2017-2022 she served as a Counselor of the Scleroderma Research Group (EUSTAR). Prof. Balbir-Gurman maintains the largest Israeli scleroderma patients' registry, and operates a busy scleroderma clinic and a multidisciplinary fibro-vascular clinic for patients with respiratory problems and rheumatic diseases. Prof. Balbir-Gurman organised several scleroderma patients' meetings.
She has above 145 published articles in the field of scleroderma, myositis, vasculitis, rheumatoid arthritis, biological therapies, the use of ultrasound (US) in rheumatic diseases, and Covid-19. Prof. Balbir-Gurman has organized five musculo-skeletal US courses for Israeli rheumatologists. Every two years she organizes an International Rheumatology Scientific Conference at Rambam. Prof. Balbir-Gurman took part in more than 50 RCT in the field of rheumatology as a site-principal investigator at Rambam. Prof. Balbir-Gurman serves as Editorial Board Member of medical journals: IMAJ and Autoimmunity Reviews.